Looking back at my 2021 quilting goals, I had mixed results.  Several quilts with curves were completed – good, however I strayed from that goal and never circled back around to it – bad.  Even though it wasn't a goal, a few old "self-kits" (fabric & pattern) were completed along with four UFOs which is a win in my book.
The goal that I most wanted to accomplish was using 100 yards of fabric, but my 2021 total was 86.81.  The biggest reason I think for the 100 yard goal failure was the 2 month wait for the new quilting frame.  This will be a goal for 2022 and will – hopefully – be met.
Okay, so the totals for 2021
 Pieced tops – 22
Completed quilts – 28
UFOs finished – 4
Yardage used – 86.81 yards
Enough looking back, time to look forward.  This year I decided to do something a little different for my goals.  Instead of a yearly goals, I am going to have monthly goals.
Since I had so much fun the the 2021 Whatnots Club by Kim Diehl, I signed up for the 2022 subscription.  I still have five 2021 Whatnots kits, so my January 2022 goal is to finish 3 – 5 wallhanging tops.  Yesterday I started Traffic Jam and have all the middle blocks completed.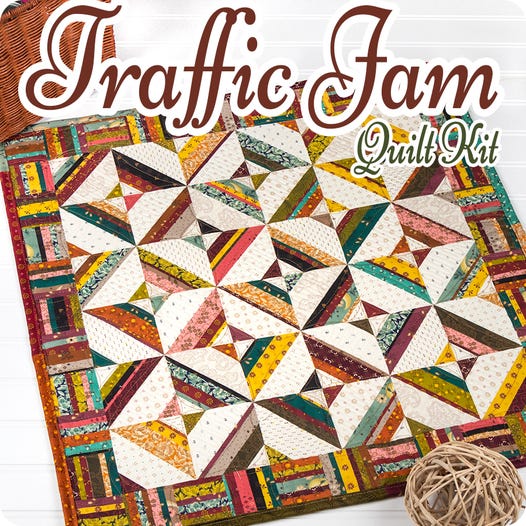 And why have only one project in the works, when you can have 2 or 3 or 5?
Dashing has not been loaded on the quilting frame and Michigan still has only one border appliqued, so what did I do?  Why start a new piecing project, of course!  This one is Libby Smith's fault – no, not really.
On her December 28th post, she mentioned a quilt from the book Nickel Quilts by Pat Speth.  That got me interested and I knew I had a Nickel Quilts book, so I grabbed my copy to take a look.  However the book I have is More Nickel Quilts, so I couldn't check out the pattern that Libby intends to make.  I did come across a quilt pattern that I have always liked, but have never made – Dawn to Dusk.  When reading the directions I realized that it would be so easy to make these blocks with a jelly roll.  Before the end of 2021, I had 72 blocks cut out and half sewn together.
It is going to be so much fun to play with the layout and design a border.
For my 5th project, I pulled out the February 2021 Quilty Box EPP UFO  Starry Aurora.  When it is finished it will measure 20 3/4″ x 21″, so it is a good fit with Mini-January.  It is my watching TV handwork project.
Happy Quilty New Year,
Marlene